5.July.2021
Crypto Expo 2021 in Dubai to Attracts Arab Investors and Crypto Traders
Emerging Crypto market in Middle East and Africa get ready to meet the largest cryptocurrency event on 13-14 October 2021 at Conrad Dubai.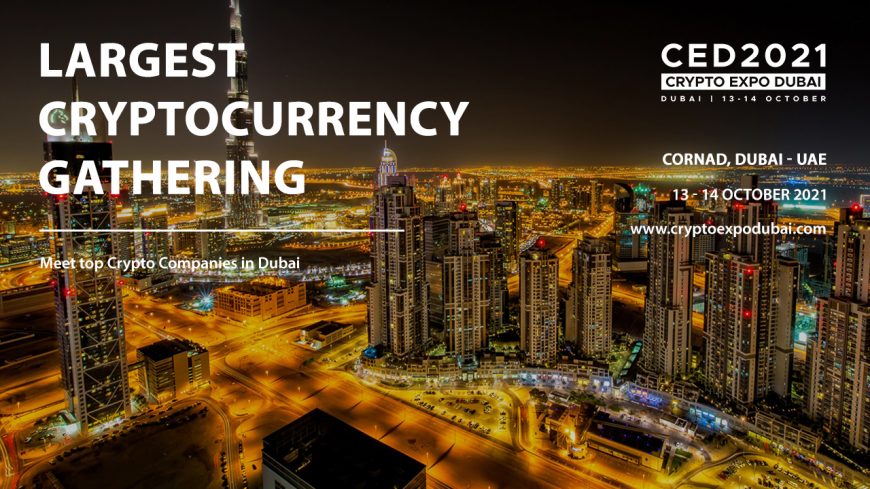 Two day crypto event announced in Dubai with huge expectation among the Crypto Enthusiast in the Region, will host a potential conference that set a valuable insights in the crypto industry by the executives and personalities. 
Dubai is growing as a Hub for financial industry in the recent days, number of upcoming progressive Blockchain and Crypto Conferences in 2021. The Organizer commented that the Crypto Expo Dubai 2021 will be one of the largest gatherings in the Cryptocurrency industry with atleast 2000+ Attendees and 40+ influential speakers and more than 30 crypto companies participating. 
Top industry leaders like Bryan Benson from Binance, Julian sawyer from Bitstamp, Ajit Tripathi from Aave, John Cavebring from Hips Payment Group are set to join as the speakers at the conference in Crypto Expo Dubai 2021 happening on 13-14 October 2021 at Conrad Dubai, UAE.
CED 2021 act as platform for various crypto product launches, market insights and to debate the upcoming trends in the crypto investing and trading. The premier Crypto event to take place in Conrad Dubai in Sheikh Zayed Road with content-rich conference comprising a top industry executive joining a speaker. 
The Event in Dubai is set to add talks on decentralized technology, Future of Cryptocurrency , Trend of  NFT and driving force behind DEFI, the largest number of upcoming project are scheduled to launch at this event this October.
Stay tuned to get updated on the event speakers and sponsors, visit cryptoexpodubai.com 
Back to Blog