11.April.2022
1inch becomes a Gold Sponsor at HOW TO DEX!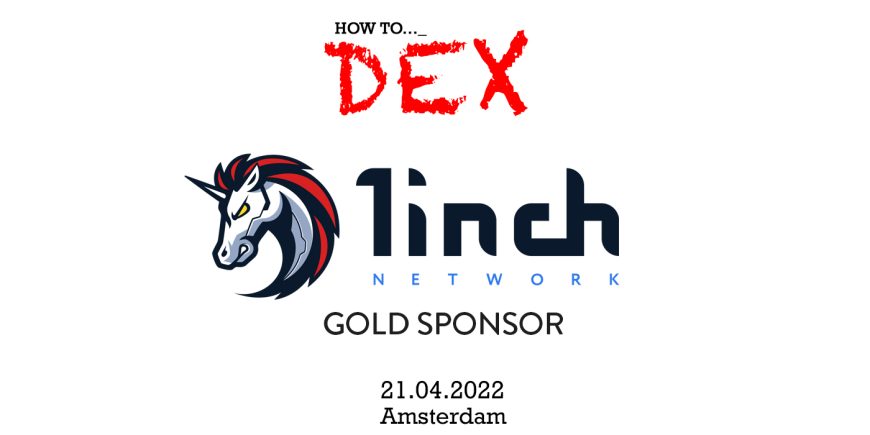 As the Conference.Exchanges HOW TO DEX is less than two weeks away, DeFi legend 1inch is joining us as a participant and Gold Sponsor of the event!

For the crypto community, 1inch needs no introduction.
Almost 3 years ago, in May 2019, an MVP for a DEX aggregation protocol was developed at the ETHGlobal New York hackathon. Since then, that  MVP has grown into an ecosystem of decentralized protocols – the 1inch Network.

Fun Fact:
1inch was named after Bruce Lee's famous knock-out blow. The one-inch punch was said to vanquish any opponent.

Today 1inch is a leading exchange aggregator that scans decentralized exchanges to find the lowest cryptocurrency prices for traders and is powered by its 1INCH utility and governance token.
The 1inch Network consists of 6 distinct yet interoperable components: 1inch Aggregation Protocol, 1inch Liquidity Protocol, 1inch Limit Order Protocol, 1inch DAO, 1inch Labs & 1inch Foundation.
Among the unbeatable advantages of 1inch are; better return for traders, faster way to exchange, security and ownership of your keys, and much more.

1inch is widely known as a network of strong & reliable DeFi features whose synergy enables DeFi users to maximize the financial opportunities of Web3.
One of the co-founders of 1inch is Sergej Kunz.
Sergej started to study programming when he was 14 and still does it everyday. His work experience amounts to 15 years of software engineering, architecture and cybersecurity. Before creating 1inch, Sergej worked with companies like Bulktrade GmbH, Porsche, Mobex, Commerce Connector & others.

At the Conference.Exchanges HOW TO DEX 1inch will be presented by co-founder Anton Bukov.
Anton started programming when he was 12, taking evening university classes for schoolkids. After studying cryptography at university, Anton's path crossed with blockchain again around 2017 when he was surprised to see that the value of ETH tokens on exchanges had increased substantially and what used to be worth $30 was now worth about $3,000.
His work experience amounts to 10 years of software engineering, blockchain crypto technologies and interest in consensus problem solutions for crypto projects.

At the event, Anton Bukov will be discussing the topic Aggregating CEX liquidity in DeFi: A 1inch case study.

Want to join us at the event and meet the 1inch co-founder, as well as many other cool speakers? Register here! 

Follow us on Twitter for more updates on our program! 

________________________

Resources:

1inch blog
Ledger academy
Coinmarketcap

Back to Blog