15.March.2022
ANNOUNCING PEANUT AS A TITLE SPONSOR OF "HOW TO DEX"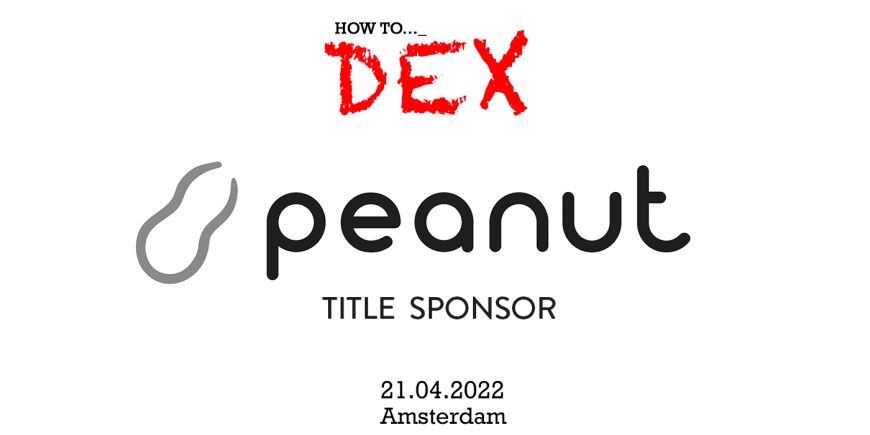 While we are gearing up for the HOW TO DEX conference which will be held on April 21st during Ethereum Dev Connect in Amsterdam, we are happy to announce that we have a Title sponsor of the event – Peanut.

This blockchain startup has a clear focus on developing solutions aimed at accelerating the adoption of decentralized exchanges (DEX's).
Now, DEXs are the most popular class of decentralized applications, with the top five DEXs accounting for over $36 billion in value.

However, new opportunities brought by DEXs come along with new challenges for traders and liquidity providers.

Peanut has set a clear goal – to advance the tools available for DEX traders and liquidity providers while maintaining all the advantages of decentralized protocols.

Founded in 2017 as Remme and rebranded into Peanut in 2020, the team of 22 based out of UK (London) & Ukraine (Kyiv), has achieved significant progress in 2021, reporting the increase of their revenue 50x and total DEX trading algorithms of $1b.

With several already working products in the DEX space,there is no doubt that Peanut will have plenty of insights to share with the audience and some raise important topics for discussion. That's why Peanut is being represented by not one, but by two speakers on HOW TO DEX conference!

The first speaker is Alex Momot – Co-Founder and CEO of Peanut. As both a startup founder and blockchain evangelist Alex is boasting over ten years' IT experience. He has been working in the blockchain space since 2013. Alex has been a board member of the Bitcoin Foundation Ukraine for the last 4 years and has also been in bitcoin mining since 2015.
"Our mission is to speed up the growing popularity of decentralized finance through providing DEXs and their users with a top-notch technology capable of reducing the barrier of entry." A.Momot
Another speaker is Anatolii Padenko, CTO at Peanut. Anatolii leads the team of 9 developers and managed to build unique DEX trading and bot protection algorithms that made Peanut stand out from the competition. Anatolii has extensive knowledge of blockchain architecture and MEV. He was a winner of ETH Lisbon Hackathon where he presented an MEV-based solution to prevent DeFi protocols exploits.
We are looking forward to seeing Peanut's team among the speakers and will soon announce the topics of their speeches.
We will be adding more speakers in the coming days so please follow us on Twitter, not to miss a thing about the upcoming event and Ethereum Dev Connect as a whole.
Or if you, like Peanut, are thinking of applying for a speaker or sponsor, don't hesitate and reach out to us  via email [email protected]

We would like to add that all the profit from the HOW TO DEX conference will be donated to Palianytsia a Ukrainian charity fund based in Lviv that helps refugees and war victims in Ukraine .
Back to Blog