4.April.2022
How to DEX in details: topics to be raised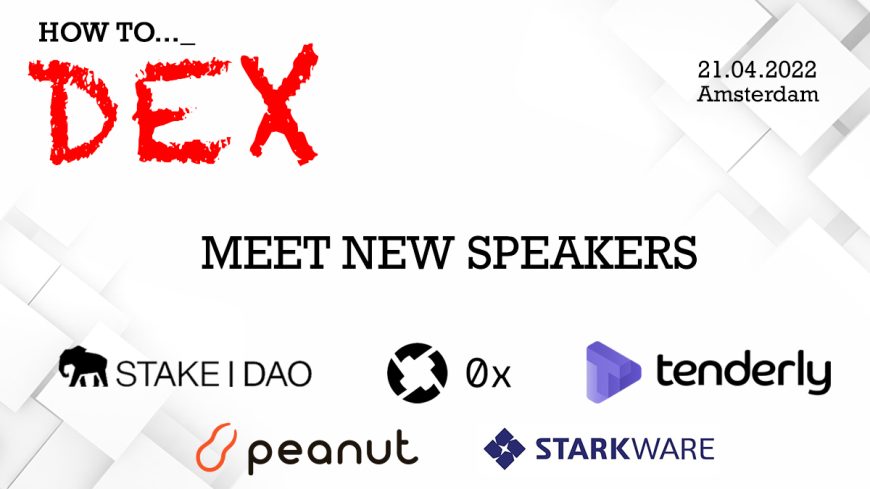 Ethereum Dev Connect week includes more than 40 various events & gatherings, ranging from layer-2 and MEV conferences to various workshops, hackathons, and art exhibitions. And yet there will be only one event dedicated to important and topical subjects such as; DEX trading, market-making, and liquidity management  – this is HOW TO DEX conference!  

The agenda of the event is being shaped day by day and by now we have a list of topics that are going to be raised both in panel discussions and in keynote presentations.|
Speakers of the conference are making the program even more exciting by offering some special topics.
We will be discussing the new features and major benefits of Uniswap v3  with its new approaches to AMM? 
To focus even more deeply, Anatolii Padenko, CTO at Peanut, will be describing an alternative point of view on uni-v3 fees distribution as well as how it can be used for market-making.

We will look into the sniper problem in DEX listing and find out what the protection types are. And will the question be answered of how token holders' structure could impact trading?
Julien Bouteloup, founder of Stake DAO will be talking about traditional and crypto market making, focusing on cross-chain market making. We will also be delving into cross-chain arbitrage to figure out if it is indeed the key to profit improvement.
Robert Paluba, data scientist at 0x labs would like to make a presentation on slippage impact on AMMs and how the RFQ system in the 0x API can help solve this problem. 
Ohad Barta will be presenting the StarkWare project as well as talking about potential designs of decentralized order books on StarkWare technology. 
We have also arranged several panel discussions, one of which will be devoted to forecasting in DEX trading and will feature Bogdan Habic, co-founder & CTO at Tenderly. 

If you have a great topic in mind and have something insightful to add to our talks, feel free to apply to be a speaker by reaching out to [email protected]

Wanna take a place in the first row, sit back, listen to the leading speakers  & network with them – you are welcome as an attendee. Please register here >>> https://theconference.exchange/registration/
Follow us on Twitter & join our Telegram chat not to miss a thing about How to DEX!
Back to Blog