23.February.2022
How to DEX?
With The Conference.Exchanges.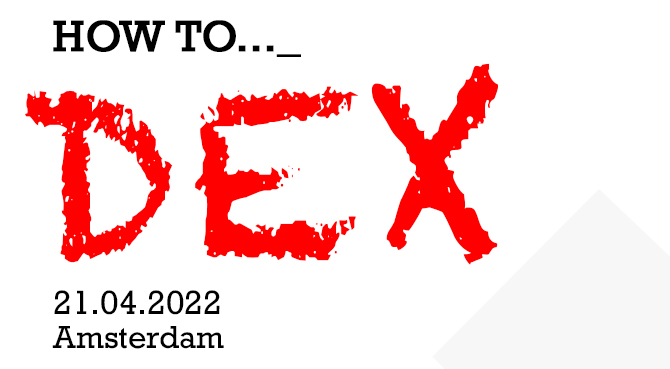 We're back again with another exciting edition of The Conference.Exchanges!
This time, we're focusing on decentralized exchanges and presenting a conference for DeFi and TradFi experts dedicated to the future of DEX adoption.
After a challenging 2020, where we had to switch to an online format for events (and hosted an online conference in 2021), we're thrilled to announce our return to connecting in person in the beautiful city of Amsterdam.
On April 21st, 2022, we'll be returning to a space of traders, startups, exchanges and new opportunities.
Meeting point: Amsterdam | April 21, 2022
What's on: The Conference.Exchanges: How to DEX
The DEX breakthrough in 2021
2021 was a pivotal year for the decentralized exchange market. In 2020, the DEX market had a turnover of $1 trillion, but grew an incredible nine times in the following year!
DEXs have risen to take over a significant portion of the cryptocurrency market, moving away from the more 'traditional' centralized exchanges (CEXs). As a result, these decentralized exchanges have opened up new avenues for market creation, as well as providing liquidity. Token holders are now able to more confidently put their assets to gain greater wealth.
A fun fact: DEXs now account for roughly 13% of the whole cryptocurrency market and are the primary automated market maker (AMM).
Shifting into the DEX market
On April 21, 2022, digital asset funds, market makers, trading & investment firms, liquidity providers, hedge funds & DeFi protocols representatives alike, will gather at The Conference.Exchanges: How to DEX in Amsterdam.
The conference aims to build a community of finance experts from both DeFi and TradFi, who believe in the potential of blockchain, DeFi and DEX technologies. We are bringing together the brightest minds of the industry to share knowledge and build the future of finance together.
At The Conference. How to DEX, our key topics include:
The legal framework around crypto market making
An exchanges overview, including determining which is best for clients
Determining how token holders' structure will impact trading
Delving into traditional and crypto market making, with experience joining Edge Technologies
Uniswap v3 and concentrated liquidity, including new approaches for AMM
The title sponsor of the "How to DEX" event is Peanut project. Peanut provides DEX solutions for liquidity management, algorithmic trading and MEV protection.
As a live networking event among like-minded people, the inevitable benefits of gathering crypto enthusiasts from all over the world can be capitalized on in this space. This is particularly important for investors and developers who have missed the benefits of live events over the last two years.
Ethereum Foundation's DevConnect week runs at the same week, essentially guaranteeing a targeted and insightful audience!
To keep up with announcements and additional details, subscribe to our social networks on Telegram and Twitter.
To become a partner, sponsor or speaker, contact us via email at: [email protected]
Stay tuned for all of our upcoming updates!
Back to Blog